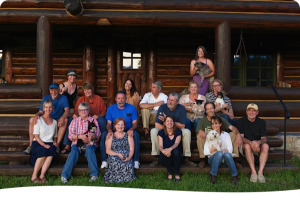 This was the third time I was invited back to Jim and Wendy's place in Montana and once again this getaway was the highlight of my summer. It was like a great dream… with no phones, no Internet and all of my best music pals at every meal. It doesn't get better than that for an old cowboy singer like me.
With the Mission Mountains range as a backdrop at sunset and the Bob Marshall Wilderness just to the east of the ranch, the ranch and lake house fit right in as a part of the west where cowboys and grizzly bears make up the history of a most of the local families. I love that history.
I arrived in Missoula about the same time Kate and Doug and the rest of the bunch flew in. The ten of us made a short stop at the local Costco for pizza and then headed up the mountains to the ranch.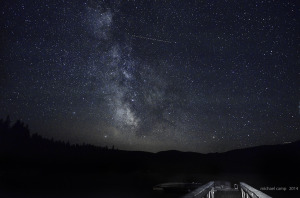 After living in Colorado for more than ten years I still have a great affinity for the Rockies, but Montana's mountains are by far the most majestic and wild. You don't go anywhere without bear repellant ("bear spray") and the night skies are the darkest star-filled planetariums you'll ever see. I took a lot of great night shots… with a can of bear spray on my belt.
I go back a long way with this group of friends and the music is like family prayers and vespers before the lights go out every night. We've written together, recorded songs and CD's together and played the festivals in years past. If I got nothing else from my years on the road, these fine people are enough.