It was a completely enjoyable surprise to have a visit from Mike Williams and Kathy Cloninger on Valentines Day. They were traveling back to Nashville from a week in Key West and Naples fell in the path of their way home.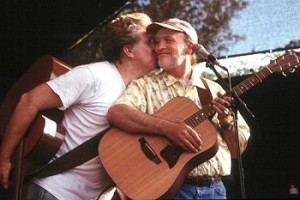 The first time I met Mike Williams he was half-dressed and coming out of his tent at Camp Cuisine (Kerrville Folk Festival) making a beeline to his big 12-string. It was 1992, early in the morning and most everyone else at the camp was sleeping in. We stayed up late in those days.
I'd walked into camp with my guitar and started singing Something In A Memory for the breakfast crew, and according to Mike, it put him on his feet out of a sound sleep. Before I hit the 2nd chorus he was playing every chord, right on time, and chimed in a harmony. He's a master of finding a welcome place for himself in any song no matter what time of day it is.
But, on one particular morning  it was Kathy who started a conversation that tied us all together as the bunch of us sat in our circles at that campsite. Kathy had been in Austin in the same 70's years that I was way back when, and after a few minutes of talking we realized that if I'd stayed in Austin all those years ago, every one of us sitting in that circle would have been friends a long time before Kerrville. We'd all been in Austin at the same time and we knew the same people, played the same clubs, had the same war stories. I just left way too early.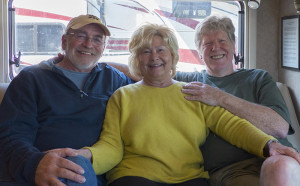 The years since then bear the warm weight of a wonderful history that all of us who played years at a time in Kerrville will always share. We're family… we always will be. We've all sat in Mike and Kathy's living room and played. I've sat in song circles with Mike that were more like musical chairs for the best songwriters in the world. Rory Bourke. Peter Rowan. Dana Cooper. Jon Ims, Jimmy Ibbotson and Peter Yarrow. Bryan Bowers, Janis Ian, Kate Wallace, Michael Johnson, Steve Seskin, Ellis Paul and Cindy Greene. Don Henry, Tom Kimmel and Rick Beresford. The list goes on forever. We were all there.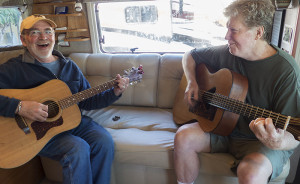 And I'll bet even now, today or tonight, Mike's piano-sized guitar's within his reach and he's got a tune on his mind.